Good Article to read …Spring 2013 looks promising!
Home Prices:
Biggest Rise in More Than 2 Years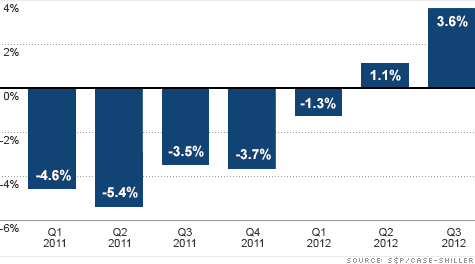 NEW YORK (CNNMoney) -- In another sign of a housing market rebound, home prices posted the biggest percentage gain in more than two years in the third quarter, according to the closely followed S&P/Case-Shiller index.
The 3.6% increase from a year earlier is more than three times the rise in the previous quarter and was the biggest jump in prices since the second quarter of 2010. But that 2010 rise was much more of a temporary blip caused by a homebuyer's tax credit of up to $8,000 on homes purchased in late 2009 and early 2010.
This latest rise comes as the housing market has shown numerous other signs of recovery in recent months. The rebound is spurred by a combination of record low mortgage rates, improving jobs market, and a drop in foreclosures to a five-year low, reducing the supply of distressed homes available. There is also a tighter supply of both new and previously owned homes on the market.
The improvement in housing market fundamentals have helped to lift the pace of both home sales and home building. Read More>
Photo courtesy of: www.freerangestock.com
To search an entire database of homes for sale in real-time with photos, descriptions, and community information, please visit my website: www.premiermarylandhomes.com
Rick Reed, G.R.I., CDPE- Certified Distressed Property Expert 
Assoc. Broker/Owner "The Congressional Team" RE/MAX
Licensed in MD & Wash DC
8937 Shady Grove Court
Gaithersburg, MD 20877
Cell: 301-742-1172
Office: 240-403-0399 X306
http://www.premiermarylandhomes.com/

Can I help a friend or family member with their Real Estate needs?  You can count on me!