Montgomery County 2013 Year-End Crime Statistics Show 9% Reduction in Crime:
Serious Crimes Down One-Third, All Crime Down 26% over Past Seven Years
Montgomery County Executive Isiah Leggett and Police Chief J. Thomas Manger, along with State's Attorney John McCarthy and County Council President Craig Rice, announced today that total crime for 2013 in Montgomery County decreased 9 percent from 2012 – part of a seven-year trend that totaled a 33 percent reduction in serious crime and a 26 percent decrease in all crimes.
The 33 percent drop in serious crime in the County was more than twice the decrease in crime nationally over the same time period -- and eight times lower than the rate of decrease for the previous seven years in the County (2000-06).
The 26 percent drop in all crimes in the County was three times lower than the 9 percent drop nationally and contrasted with an 8 percent overall increase in crimes in the 7 years before (2000-2006).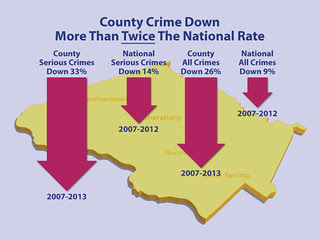 "Today, you can see – by the numbers – the progress that the County has made," said County Executive Leggett.  "Chief Manger, his command staff and the men and women of the department have worked harder, smarter and more creatively to produce these numbers and to better protect the lives and property of the residents of Montgomery County.
"None of this happened by accident. When I assumed office, Montgomery County was spending beyond its means – over a 36 percent increase in the three years before I became County Executive. We had to stop unsustainable budgets. Then, of course, we had to weather the Great Recession that laid low our entire nation. Despite these challenges, we made public safety a priority.
"Between 2007 and 2014, our tax-supported County Government program budget went up 12 percent over 7 years – but our spending for the Police Department more than doubled that – nearly 28 percent."
"While I am always pleased to see our crime numbers continue to drop, the men and women of the MCPD understand that there is still work to be done, and our efforts will continue," said Chief Manger. "Fighting crime requires a focus on preventing it in the first place, and then being able to react quickly when it does occur.  I appreciate the relentless effort from my cops, the dedication of my civilian employees, as well as the help we get everyday from the public we serve." 
"The striking numbers we are announcing today highlight that the County Executive and Council have successfully worked together so that Montgomery County remains one of the best places to live, work and raise a family in a safe environment," said Council President Rice.  "A few years ago, in response to community concerns and urging from police leadership, we began a reform of our policing districts and an increase in the number of officers to better address community policing needs." 
2013 Year-end statistics show crime down in all categories except forcible rape (25 stranger, 104 known, 130 total, up from 21 stranger, 81 known, 102 total in 2012) and commercial robberies (up from 79 to 102) and commercial burglaries (up from 481 to 581).
Budget funding over the past seven years has financed portions of the Chief's Three-Year Staffing plan – to include staffing of Public Community Action Teams (PCAT) and District Community Action teams (DCAT), more police District investigative positions to include the establishment of a separate 6th District Police Investigative Unit, and a Centralized Criminal Street Gang Unit.
Despite the trying economic times, the County was able to increase the full-time positions in the department – sworn and civilian – by more than 100.
Other multi-agency programs included the opening of the Family Justice Center to establish a one-stop shop to better served families who are victims of domestic violence. Also, the County Executive's Positive Youth Development Initiative – a joint initiative of the Police, Recreation and Health and Human Services Departments --  established after-school programs aimed at at-risk youth, provided resources for intervention to pull kids out of gangs and resources to suppress gang activity.
Click here to see 2013 Year-End Police Report
Click here to see County and National Crime Statistics 2000-2013
Click here to see chart on County spending for Police during the Great Recession
Source Link: Connected Communities Montgomery County, MD 
To search an entire database of homes for sale in real-time with photos, descriptions, and community information, please visit my website: www.premiermarylandhomes.com
Rick Reed, G.R.I., CDPE- Certified Distressed Property Expert 
Assoc. Broker/Owner "The Congressional Team" RE/MAX
Licensed in MD & Wash DC
8937 Shady Grove Court
Gaithersburg, MD 20877
Cell: 301-742-1172
Office: 240-403-0399 X306
http://www.premiermarylandhomes.com/

Can I help a friend or family member with their Real Estate needs?  You can count on me!